Delivering a Branded Experience
When it comes to eCommerce packaging, presentation is everything. However, brands that ship valuables and other goods best kept anonymous often leave their shipping boxes free of print that might tip off would-be thieves or nosy neighbors to the sensitive contents inside.
While leaving the exterior of these boxes somewhat plain can be a smart move, the shipping box still plays a key role in the customer's perception of their purchase. Brands don't have to miss out on delivering an experience that delights and reinforces their message.
How? With inside-only print.
What is Inside-Only Print?
Inside-only print takes place when you choose to skip print on the exterior of your box and only have printed graphics displayed on the inside of your box. Printing exclusively on the inside of a shipper box provides the perfect solution for brands that seek to deliver a more private and secure packaged product, without sacrificing a great unboxing experience.
Keeping It All Inside: When to Choose Inside-Only Print
eCommerce customers have come to expect packaging that delights as much as it protects. Inside-only print is a great way to make a positive first impression during the crucial moment of truth that takes place when your product is unpacked from its shipping box. This type of impression can also be more personal and targeted to a specific audience. Some brands are even printing their customer's name right on the inside of a product or shipping box – creating an intimate connection right away.
For eCommerce businesses, there is no retail experience to deliver to the consumer, and thus packaging must carry more of the weight when it comes to brand experience. Packaging delivers the overall unboxing experience — the intentional way curated products are presented to a customer.
After all, it's what's on the inside that counts.
Benefits of Inside-Only Print Packaging
There are many circumstances where a brand may opt to use inside-only print for their custom packaging. Here are a few benefits to consider:
Brand Experience: Dents, scuffs, and finger marks often occur on the exterior of packaging during the shipping process. Inside-only print utilizes the interior space to include additional messaging, imagery, or personalization without the possibility of damage.
Leveraging Available Space: The outside of a shipper or mailer box often includes labels and tape. This can take away from the available space for branded artwork. Inside-only print allows you to add branding to your packaging without anything in your way.
Product Privacy: Some brands may need to provide discreet packaging to customers, which is especially important if the product inside is sensitive or high value. Inside-only print allows eCommerce businesses to deliver an excellent brand experience, while preserving their customers' privacy.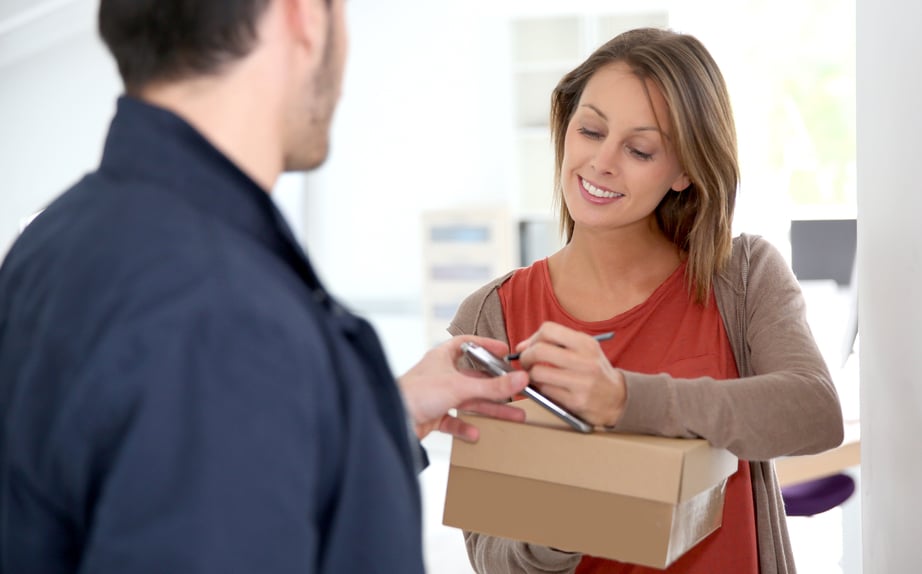 Theft Discouragement: Research shows that an estimated 23 million Americans have had packages stolen from their doorstep. Since inside-only packaging is nondescript, it doesn't alert packaging thieves to the possible value of the contents inside. This can be helpful for brands in electronics, jewelry, or designer goods industries.
How to Order & Design Inside-Only Printed Packaging
Fantastapack offers custom packaging with inside-only print for the majority of our box styles. For those interested in this print option, start by choosing your desired box style and select "Print – Inside." You will receive a dieline* that corresponds to the inside of your box within 10 minutes after placing your order.
Our dielines work best with Adobe® Illustrator. Be sure to take a look at our Fantastapack Art Guidelines to make sure your artwork complies with our printing requirements.
Think Inside the Box with Your Custom Packaging Provider
First impressions, security, and proper product protection are all important when it comes to custom product packaging. Adding inside-only print to a structurally sound shipper box is a great solution to deliver a branded experience that respects customer privacy and delivers your product safely – and in style.
Design Your Fantastic Packaging Today
Fantastapack is your go-to partner for high quality, custom printed boxes and labels with no minimum orders. Our easy-to-use platform empowers brands of all sizes to produce beautiful, full-color packaging with inside print, outside print, or inside AND outside print — whatever you desire! If you aren't sure where to start, download our Flipbook to see material samples, project inspirations, and receive 15% off your first order.
* Please Note: At this time, you can only design your inside artwork offline. Art Studio is not available for this option. Inside-only print is not available for the following styles: Pad, Four Pack Bottle Carrier, Six Pack Bottle Carrier, Pizza Box, and Tuck Top Gravity Feed Tube.