You've worked hard on your product and your branding and it's paid off – your shipments are packed and now your subscription box customers eagerly await your fantastic packages, because you deliver the magic!
...in a plain brown cardboard box. Zzzzzz.
Instead of delivering a forgettable package, continue the branded experience that began when your customers signed up for your subscription box and "wow!" them by boosting the excitement around unboxing. Why? The success of your business is based on repeat customers – delivering a memorable experience keeps them delighted and coming back for more. How? Put thought and care into your packaging and leverage creative graphics and design to transform that boring shipper box into a treasure chest of wonder!
The concept of unboxing is the newest craze sweeping online retail, subscription services, doorstep delivery, and social media. Consider how packaging plays a role in this phenomenon:
Every single one of your customers is thrilled when they receive a shipment that looks like a beautifully and thoughtfully wrapped gift. An exciting box builds anticipation as they carefully open it up to discover something that will enhance their lives, whether through health and wellness, beauty and fashion, hobbies and recreation, or by other means you provide. The excitement and anticipation that your box inspires directly carries over as excitement and enthusiasm for your product.
Engage the Influencer Community
Social media has ignited the popularity of unboxing. According to Paper & Packaging, "In 2014, there were over 22 million search results returned on YouTube for the keyword 'unboxing.' Today, that number has swelled to more than 52 million. And it's not just YouTube. Snapchat has seen a rise in the popularity of unboxing videos."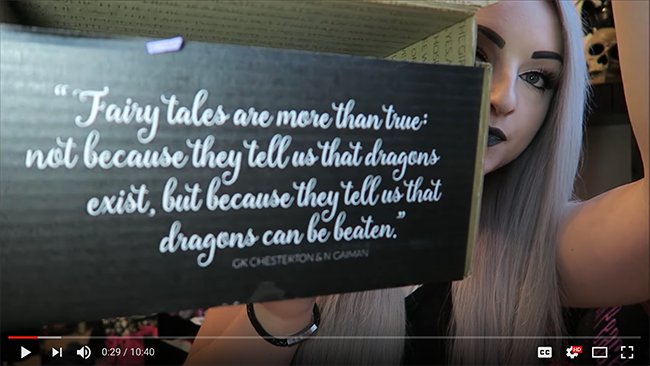 Being highlighted in this earned media space is crucial for any subscription box brand. Authentic unboxing videos and product reviews speak volumes and drive sales. A great looking box and a positive unboxing make your subscription business worth sharing. Strategize on how to integrate Facebook, Instagram, Youtube, and your brand influencers to promote your product by way of unboxing. According to 2017 Hitwise research, Instagram is the second-largest driver of traffic to subscription box websites. Upload high-quality photos on a regular schedule and use popular (and relevant) #hashtags to drive awareness to your product.
Millions of subscription boxes are sent every month — do yours stand out?
Your subscription box brand must stand out to succeed, especially in today's ever-competitive market. Take the steps necessary to create packaging that will make a stunning impression. Identify which niche your box will serve before launching and explore how to express your brand's tone on the box. From professional to quirky, your box graphics should be a great representation of your style.
There are many important aspects to consider when choosing what's most appropriate for your product and your brand: box material, print finish, graphic design, and labels all play an important part of contributing to the unboxing experience.
Consider the available mailer box styles and sizes. Remember that the box not only protects your proudct, but also must be user-friendly. Today's customer is seeking a fun and easy reveal. Hacking away at indestructible, hard-to-open, or otherwise maddening packaging is no longer acceptable.
Unboxing is now part of modern retail.
Our world keeps changing in leaps and bounds. Funny how decades ago "mail-order" catalogs seemed old-fashioned, yet now we're connecting with our potential clients in a similar way online to facilitate deliveries.
Build Brand Loyalty with Unboxing
Your brand extends from your social media presence and website all the way through to your tangible goods. You've put a lot of effort into creating a great product offering and solid subscription base - nurture these hard-earned connections by engaging your customers with your packaging, and inspiring them them with your products, again and again. That's how to build brand loyalty today.
Ready to Up Your Unboxing Game?
Fantastapack is your go-to partner for high quality subscription box packaging. Check out our popular mailer box styles here and upgrade your subscribers' unboxing experience today!