If you are new to the packaging industry, ordering subscription box packaging may sound like a simple task. However, there is more to ordering packaging than meets the eye. You must consider your budget, timeline, sales forecast, and a host of other factors to make a smart purchase. Fortunately, you can streamline the ordering process by following a few key steps and selecting a trusted vendor. Below is your seven-step guide to ordering subscription box packaging.
Step 1: Plan in advance
Always take time to consider your needs and budget before confirming your order. Think through your packaging process from start to finish and consider these five important questions before you commit to a purchase. Planning ahead will save time and money.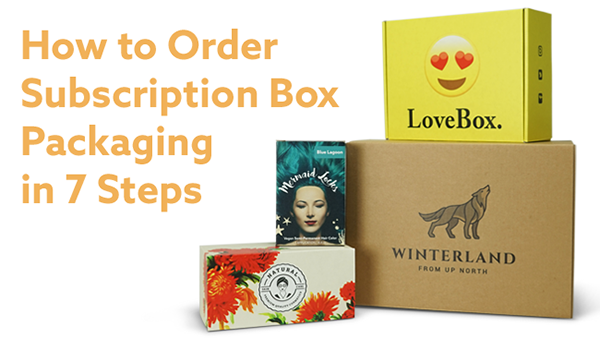 Step 2: Establish your packaging budget
Your budget plays a key role in determining the size of your order and style of packaging you choose. As you consider your budget, remember that you will have other expenses to cover and you will need a healthy cash flow in order to grow your business. To allow for these expenses, make sure that all of your money is not tied up in packaging.
Step 3: Determine how many boxes you require
The best way to figure out the number of boxes you will need is to review your total shipments from the previous calendar year. Then factor in any increases that you have experienced this year. This will help you forecast your packaging needs for the next several months.
Just getting started? Order a small volume of packaging and source it from a supplier who can quickly provide more as your subscription base picks up.
Tip: Be cautious of packaging vendors that require a high minimum volume order, as you may be forced to order more boxes than you require. These extra boxes will need to be stored somewhere, which could add to your costs, and may become obsolete before you are able to use them (that's like throwing money away!).
Step 4: Select your preferred box style and size
This step is vital to ensuring that your products are properly protected and arrive at their destination intact and as promised. Choosing the best box style and size for your subscription business requires careful consideration of the type of products you offer and how they will be delivered to your subscribers.
Here are some points to ponder as you select your box size and style:
Protection. Make sure the box material is strong enough to keep your product safe from shipment through delivery – especially if your contents are fairly large or on the heavy side.
Size. Boxes that are too small could result in your contents being crushed during shipment, while an oversized box could cause products to shift about.
Unboxing. What experience does the box style deliver to the end user? Is it fun to open? Worthy of posting on social media?
Sustainability. Environmentally conscious customers can choose from a range of boxes made with post-consumer recycled materials.
Step 5: Consider your timeline
Determine how urgently you need your packaging before you place your order. Always be transparent with your provider when you confirm your order to ensure timely completion. Factors to consider for your purchasing timeline include the following:
Delivery dates you have promised to your subscribers
Seasonal fluctuations in your sales and shipments
The print method(s) employed to complete your order (for example, flexography requires that print plates be manufactured and can therefore take longer than digital print)
Tip: Never wait until the last minute to place your order! Although some manufacturing methods are faster than others, all custom packaging orders come with a minimum production timeline before your order can be shipped to you.
Step 6: Select your vendor
Not all custom packaging providers are created equal. Finding a vendor with the expertise and resources to meet your specific needs requires careful evaluation of prospective partners and the value-added services that they can provide. As you evaluate potential vendors, be sure to consider the following qualities:
Flexibility. Choosing a vendor that can meet your deadlines and project requirements is essential.
Scalability. Make sure the vendor has the resources and ability to grow alongside your business.
Customer service. Selecting a vendor that is accessible and responsive is paramount to your satisfaction and project success.
Affordability. Some vendors may offer volume discounts or other benefits that can positively impact your bottom line.
Step 7: Place your order
Once you have narrowed the field of available vendors to your top selection, it is time to place your order! Before you remit payment, make sure that your vendor will provide payment receipts and a copy of your order confirmation for your records.
The Fantastapack Difference
Selecting a reliable vendor is critical for your subscription box packaging success. Since 2015 Fantastapack has set itself apart by offering stellar customer service, outstanding product quality, and a focus on subscription box packaging.
Here are the top five benefits to choosing Fantastapack as your trusted vendor for subscription box packaging:
1) Your order ships quickly
Our manufacturing plant runs on digital print, which means that we do not require print plates to produce your order and can begin production faster.
2) No minimum order volume
From order sizes of 1 to 10,000 (or more!), the Fantastapack team delivers a quality, professional result every time. We pride ourselves on empowering businesses of all sizes to access beautifully printed packaging, no matter the quantity.
3) Full-color graphics at no extra cost
Digital print delivers the bold colors you crave at an affordable price, making it easy and cost-effective to showcase your logo and brand colors on your packaging. Other print methods become costlier as you add colors, which means that you will ultimately pay more for your packaging. Fantastapack offers full-color CMYK-spectrum printing at the same price regardless of how many colors your design utilizes.
Additionally, Art Studio, Fantastapack's online graphics editor, allows you to design and order your boxes online, helping you to avoid hiring a graphic designer to apply graphics to your box dieline.
4) An impressive selection of products
In addition an extensive collection of custom box styles, Fantastapack offers high quality labels to create a branded closure to seal your boxes (or to label your products).
We specialize in subscription box packaging and offer the most common, time-tested and sought-after styles for this growing industry.
5) Superb customer service
Fantastapack is known for our dedication to outstanding customer service. Our knowledgeable team of printing experts will walk you through the whole ordering process to ensure that you are satisfied with your packaging.
The Bottom Line
Ordering subscription box packaging is easy if you follow the seven steps outlined above and select a leading vendor like Fantastapack. To find out why we are a champion in the digital printing industry, check out our website and chat with one of our friendly customer service representatives.
You can also read our customer reviews to see why our fans return to us time and time again. We look forward to becoming your trusted resource for subscription box packaging!