Beauty entrepreneur and professional makeup artist Cassandra McClure has a mission: to spread the word on the importance of clean beauty. As the host of Clean Beauty Podcast and Clean Beauty Con, her goal is to raise awareness about ingredient safety in daily products.
After she had to cancel her in-person event, Clean Beauty Retreat, this past spring due to COVID-19, Cassandra decided to hold weekly online events instead. She hosted the first Clean Beauty Con Virtual Summit in April 2020, with speakers and participants from all over the world.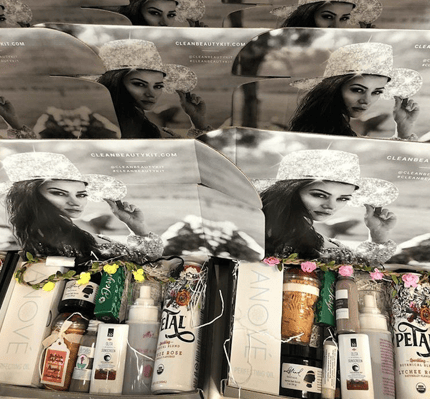 Image Source: @CleanBeautyKit
To enhance the VIP ticket experience, Cassandra and her team wanted an accessible and professional way to deliver clean beauty products directly to attendees. Thus, the Clean Beauty Kit was born. It has since evolved into a standalone monthly subscription box brand for clean beauty artists and enthusiasts alike.
Choosing Custom Printed Packaging over Standard Boxes
While developing her subscription box, Cassandra knew she wanted to work with a custom packaging provider. "Packaging is just as important to us as the products going into the Clean Beauty Kit," she says.
As a startup, Cassandra was committed to finding a packaging provider that supported smaller brands by requiring no minimum orders. It was also important that she work with a US-based company with sustainable production practices. After much research, Cassandra and her team found Fantastapack. "Fantastapack met all those needs for us while providing amazing customer service and quick turnaround time, even during the current pandemic situation."
The Clean Beauty Kit brand is about simplicity, elegance, and sustainability — and these values reflect in the subscription box packaging. The design features black-and-white, high-quality imagery of Cassandra on both the inside and outside of the box. The inside print also features a QR code, so customers can easily purchase products within the box from the Clean Beauty Kit website.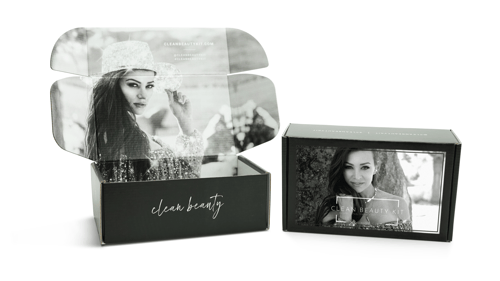 Image Source: @CassandraMcClure
Cassandra has received fantastic feedback on her packaging design from brand ambassadors, influencers, and subscribers. "The Clean Beauty Kit boxes are so beautiful and durable a lot of subscribers are finding ways to reuse the box rather than recycling them right away," she says.
What's Next for Clean Beauty Kit?
Even amidst a global pandemic, nothing stops Cassandra and her team from spreading the message of clean beauty. When it is safe to travel and gather in large groups again, she plans on hosting another Clean Beauty Retreat event in person while continuing Clean Beauty Con Virtual Summit regularly. With the warm response to the Clean Beauty Kit, she also plans to continue growing her subscription-based business.
Cassandra's advice for aspiring entrepreneurs is to never give up on your dreams — even if others don't quite see your vision. "If you believe in yourself, you can achieve anything with dedication and hard work," she says. "Take the time to invest in finding your community, the people that support your mission and see the value of what you are doing. Don't forget to show them how much you appreciate their support."
Design Subscription Box Packaging for Your Brand
Are you planning to start a subscription box business? We got you covered. Download our guide to creating your subscription box packaging. When you're ready to order, Fantastapack's easy-to-use platform enables brands to design and order full-color custom boxes and product labels. With no minimum order requirements, up-and-coming subscription brands can order as much (or as little!) as they need as their business grows.