What is Flexography?
Flexography (often referred to as flexo) is a relief printing process. How does it work? It's basically a giant rubber stamp. Flexible plates are manufactured with raised rubber or plastic to depict your desired artwork. The plates are mounted on cylinders and ink is applied directly to the raised areas, and then the plates directly contact the substrate being printed on - transferring the ink in the form of your artwork. Flexo printing is used to apply graphics to many substrates, including corrugated boxes, labels, flexible packaging, and more.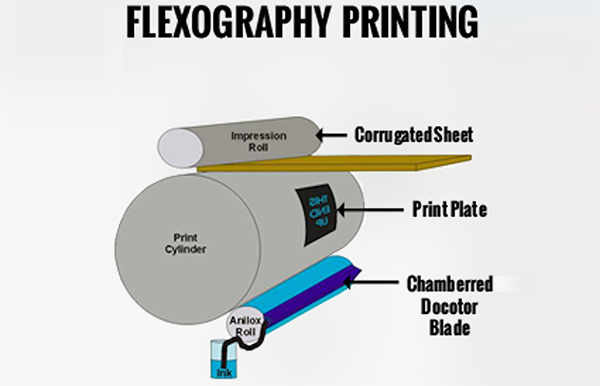 The key components of flexography to consider are artwork file setup and print plates. Each color is a separate print plate that must be purchased, and factored into the price of your packaging job. Multi-color jobs require the purchase of multiple print plates, and some effects such as gradients and screens or tints are harder to achieve. Setting up your artwork file for flexographic printing often requires the help of a professional designer to ensure your packaging prints as intended.
What is Digital Print?
Digital print is a direct printing process, where ink is applied straight onto the substrate. Think of digital printing as a huge version of the desktop printer that you use at home or in your office. Because no print plates are required, digital methods can print the full CMYK color spectrum onto your packaging with ease, and achieving gradients and other detailed effects are a snap. Other benefits include on-demand printing, short turnaround time, and even a modification of the image (variable data) used for each impression.
Different Tools for Different Jobs
Both flexo and digital print for corrugated boxes each have their own benefits and drawbacks. Based on the type of packaging job that you are trying to accomplish, one or the other may be a more appropriate choice.
Flexo printing for boxes is best suited for high-volume jobs with limited color. If you need to print 20,000 brown shipping boxes with your logo applied in one or two colors, flexo will most likely be the fastest and most economical printing option for you. Because of the setup costs associated with this method (print plate tooling and machine setup time), packaging companies will often require a relatively high volume minimum order to make a profit on running your packaging.
Digital printing for boxes shines when full color graphics, short runs, and quick turnaround times must be achieved. Today's digital presses run at speeds that are beginning to rival flexo, and because there is no time lost waiting for print plates to be manufactured, your job can go straight to press. The cost per unit might be higher with digital print, but if you are printing highly graphic color-filled boxes, or a relatively short run, you can easily offset the difference in price by avoiding the print plate and setup costs associated with flexo. Additionally, digital print jobs can be run with no minimum order - that means volumes of 1! That's very reasonable for a production-ready prototype.
So, Which Should You Choose?
At Fantastapack, we have invested in world-class digital print technology and packaging automation because we know this is the best fit for our customers and their growing businesses.
If you are a startup or small business and you're still developing your packaging through short runs to see what works, digital is an excellent solution that allows you the flexibility you need. This method also gives you the freedom to splash on as much color as you like across the entirety of your box, without having to worry if it's possible to print or adding a ton of cost to your project.
There are still considerations to keep in mind with flexo vs. digital printing, and artwork guidelines to follow. For further reading on the details, check out our Artwork Guidelines page.
Knowledge is Power
Now that you have a better understanding of the differences between flexography and digital print, we hope you feel empowered to make an educated choice about which option is the best fit for your business and packaging needs.
When in doubt, please feel free to reach out to our experts at Fantastapack with any questions, we are happy to help guide you on your packaging journey.
Get Started with Digital Today
Ready to dive in to digital print? Check out our available box styles here.