Introducing Who's That Housewife!?
Courtney Love Gavin's entrepreneurial journey started like many others: she was looking to purchase something that wasn't available in stores or online. In Spring 2018, Courtney was searching for a birthday gift for a friend. The two shared a mutual love for the Bravo television series, The Real Housewives. "I've already given her the typical merchandise, like wine glasses and t-shirts. I needed something sassy, bold, and energizing," Courtney says.
She ended up hand-making a Real Housewives-inspired game as a gift. After several coworkers asked her where they could buy it, Courtney decided to turn her passion project into a side hustle. Using the knowledge she gained from working alongside successful leaders for more than 15 years in public relations, Who's That Housewife!? was born.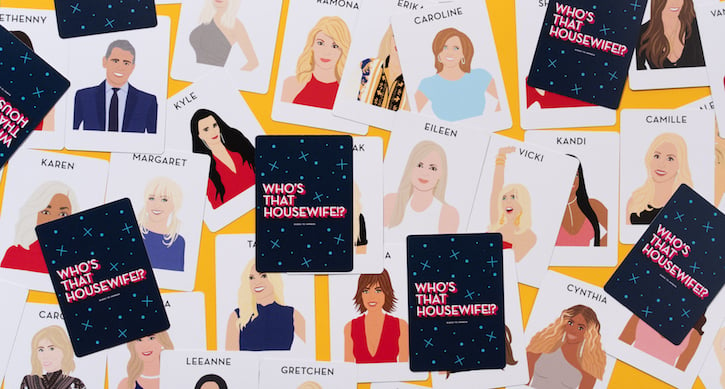 Who's That Housewife!? is a party game built on a passion for the Housewives reality series. Each player chooses a card and places it on their tiara without looking. Players have 30 seconds to guess the specific housewife from seasons past or present by getting clues from their teammates.
"I love The Real Housewives because they live their lives out loud and bring people together. Outrageous and often flawed, they are multifaceted females we don't see enough of on primetime television — scripted or unscripted."
Creating the Perfect Branding and Packaging Design
While she created the original design for Who's That Housewife!? herself, Courtney knew she had to invest in fantastic custom packaging to bring her newly established brand to the next level. The design process took extensive research. The design had to appeal to both men and women, and it had to translate well onto a printed box.
Artist Gary Stranger was a major design influence for his use of color contrast, drop-shadow, and 3-D typography. Courtney was also inspired by the color palette of a Dia De Los Muertos design for Absolut Vodka. It inspired her to add texture and dimension to her dark blue background.
The resulting package design for Who's That Housewife!? is art deco, bold, with a touch of whimsy. Courtney's unique style is reflected in every element of the brand and packaging, down to the tiniest detail including messaging that says "Made with ❤️ in Sunny California" on every box.
Looking for Love with the Right Packaging Partner
When searching for a custom packaging partner, Courtney prioritized product quality and turnaround time. Many of the packaging manufacturers she found online charged for the number of colors used or the percentage of ink coverage on the box design, so finding a cost-effective vendor was a challenge. It was also important that she worked with a US-based manufacturer that used sustainable materials and environmentally responsible manufacturing practices.
"I'm a small business, and it's important to me to support others in the same space and help our economy," Courtney says. "I found a lot of companies say they are 'Made in the USA' and have an office in the states when in reality they outsource their production overseas."
Her perfect match? Fantastapack.
Fantastapack's digital print capabilities allowed Courtney to produce full-color packaging without incurring additional costs. Since digital print doesn't require print plates, order minimums are eliminated and there are fewer limitations on artwork design.
By choosing Fantastapack as her dedicated packaging provider, Courtney was able to bring her brand and packaging vision to life to create a share-worthy packaging experience that 'wows' her customers.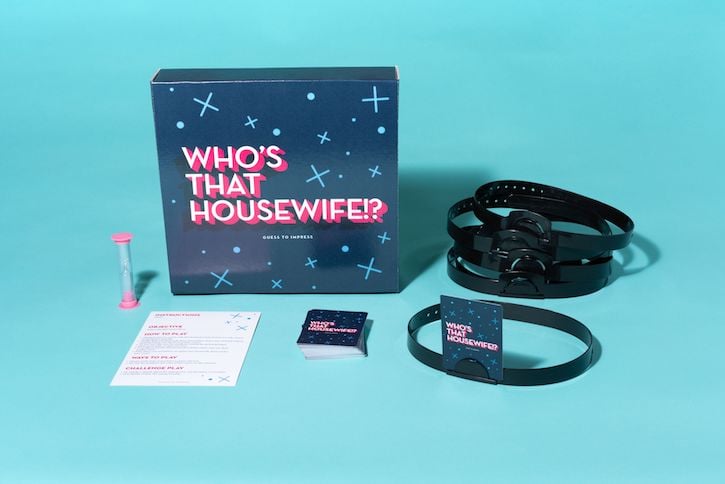 What's Next for Who's That Housewife!?
Since launching Who's That Housewife!? in early 2019, the party game has taken social media by storm. Courtney recently expanded her business to delight Pump Rules aficionados and added a new game to her lineup — Who's That Surver!?
"My vision for Who's That Housewife!? Is to continue the commitment to creating wildly distinctive designs that celebrate our iconic leading ladies and fuel fandom," Courtney says.
Despite the doubters that discouraged her from launching Who's That Housewife!?, Courtney believes having perseverance and resilience is key to building a successful brand. "Take action, believe in what you do, get uncomfortable, and 'done' is always better than 'perfect!'"
Are You Ready to Build Your Brand?
Building a brand takes time, dedication, and a dash of inspiration. If you have a business idea you'd like to pursue, it's helpful to establish relationships with vendor partners who care about your brand's success. Fantastapack supports entrepreneurs like Courtney with outstanding customer service and a commitment to excellence. Our easy-to-use platform empowers brands of all sizes to design and order full-color custom printed boxes, labels, and retail displays online and in any order volume.
Unsure of where to start? We invite you to download our free Flipbook, featuring package design ideas, material samples, and a 15% discount on your first order (see the Flipbook for details).