Introducing Brown & Jackson Projects
Based in Brooklyn, New York, Brown & Jackson Projects is an experiential design consultancy that specializes in creating retail and commercial environments, event installations, and more.

On behalf of Unilever, the team at Brown & Jackson was called to design a booth for the consumer goods giant at the 2019 Women Deliver Conference. The theme of the booth was driven by Unilever's initiatives towards gender equality and banishing gender stereotypes in branding and advertising.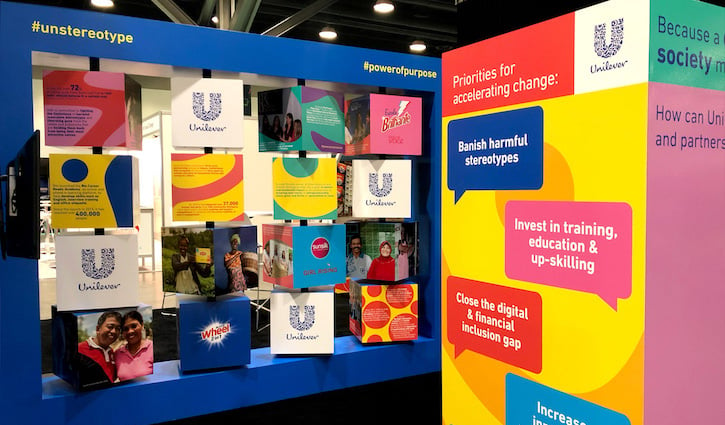 Along with a tight timeline and modest budget, which included the design, manufacture, and installation of the 20' x 30' booth, they had the challenging task of creating an engaging brand experience that embodied the depth and breadth of these initiatives.

Thinking Outside the Box with Custom Boxes
To showcase visual content from various Unilever global campaigns, the team needed to have enough space or surface area to feature many images. They also wanted to incorporate multiple zones within the booth and a selfie wall to catch the eye of passersby. With this in mind, Brown & Jackson turned to an unexpected medium to get the job done: corrugated boxes.

Known for using traditional materials in a different manner than intended, the team decided to make a large centrally placed pyramid of stacked corrugated boxes as the main focal point of the booth. The fact that boxes are economical, as well as recyclable, was a significant factor in their decision to use the medium.
"We haven't done a project quite like this one before, with the custom printed boxes stacked to provide surfaces to present the content which included photos, branding, text, and infographics," says Randall J. Lane, Co-Founder and Creative Director at Brown & Jackson. "The idea of utilizing custom boxes in this way stemmed from the need to create an eye-catching installation that not everyone has seen or done before, or at least to this scale."

Partnering with a Custom Box Provider
After the team at Brown & Jackson finalized the pyramid design, they needed to partner with a custom box provider to help bring their vision to life. Having collaborated in the past on a small packaging project, Brown & Jackson turned to Fantastapack to find out what was possible with corrugated.

"Once the scope of the project came into focus, the idea of re-engaging with Fantastapack for an inexpensive method to create a large fixture came up. Luckily, the great team over there were able to meet both our budget constraints and our timeline," Randall says.

Thanks to the power of digital print, Brown & Jackson was able to leverage versioning without breaking the bank. Without the need to manufacture individual print plates for every box design, the team could produce as many unique custom printed boxes as they needed. Since digital print requires less tooling and manual pre-press procedures compared to analog print methods, the team also benefitted from an expedited production process that helped their tight timeline.

After Fantastapack provided the necessary dieline template, designing and laying out 180 individually printed boxes proved to be a challenge, along with figuring out what surface needed what graphic or image. Randall says this was done using 3D software and a lot of focus. The actual stacking of the boxes was no easy feat either, but the team had the support of fabricators and installers onsite.


The Final Result: Delivering a Powerful Brand Experience with Packaging
After months of hard work and preparation, Brown & Jackson's booth for Unilever debuted at the 2019 Women Deliver Conference with much praise from conferencegoers. The team was able to produce a unique branded experience that represented Unilever's global initiatives for gender equality while leaving a memorable impact on visitors.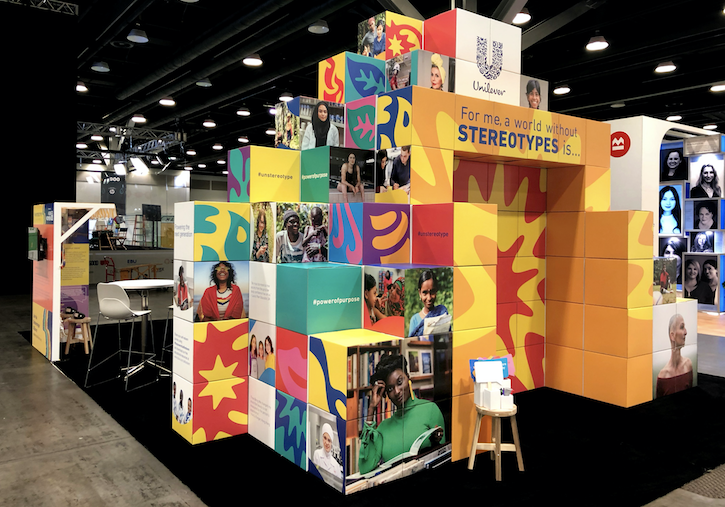 Whether you're planning an epic custom box installation or creating personalized gift boxes for an upcoming event, Fantastapack's easy-to-use platform empowers brands, business owners, and creatives to design and order full-color custom printed boxes, labels, and point-of-purchase retail displays online and in any order volume.

Unsure how to get started? We invite you to download our free Flipbook, featuring package design inspiration, material samples, and a 15% discount on your first order (see Flipbook for details).