Retail-ready packaging (RRP) is not just a trend among consumer goods brands — it's increasingly becoming a requirement for many brick-and-mortar retailers. Also known as shelf-ready packaging, RRP refers to packaging that arrives at a retailer in a self-contained unit. An effective RRP is ready for on-shelf product display with minimal assembly or unpacking required.
It's easy to understand why retailers are pushing towards this efficient retail packaging strategy. Not only can RRP minimize packaging waste, but it can also reduce operation costs by cutting down on labor. Retailers also prefer RRP because it creates a more efficient shopping experience for consumers and often triggers impulse purchases.

However, this retail packaging strategy doesn't just benefit the retailers. Brands that utilize RRP inherently stand out from competitors in the crowded aisles. With increased product visibility, RRP can also help drive sales and improve brand recognition.
The Five Easies: Common Requirements for RRP
While every retailer has unique RRP guidelines for brands, most adhere to a set of standardized principles, known as "The 5 Easies."
Easy to Identify: The branding on RRP is recognizable, the packaging design is legible, and any messaging is easy to understand for both retail employees and consumers.
Easy to Open: RRP should provide clear opening instructions for employees. The actual opening of the pack must also be efficient without the need for cutters or tools.
Easy to Shelf: A well-designed RRP is easy to stock onto shelves, minimizing time and physical effort for employees.
Easy to Shop: RRP must ease the shopping experience, rather than hinder it. Consumers should be able to easily remove a product or put back a product without any difficulty.
Easy to Dispose of: The removal and disposal of RRP should require a minimal amount of time and storage space.
Creating Effective Retail-Ready Packaging
If you're interested in incorporating RRP into your retail strategy, here are three tips to keep in mind:
Tip #1: Align Your Packaging Goals
Designing an effective RRP is no easy feat. The primary packaging must now support pallet organization, shipping, and secondary packaging. In other words, it must accomplish multiple goals in one pack — from branding to product protection. Take the time to align your goals and understand the needs of your RRP based on your specific product needs.
Tip #2: Think Small for Retail
When it comes to RRP, bigger is not necessarily better. According to Smithers Pira, a common trend among retailers is the demand for "smaller" — including smaller pack sizes, family units, print runs, etc. Be sure to consider the size, weight, and dimensions of your RRP and how it might fit among the limited shelf space in brick-and-mortar stores.
Tip #3: Prioritize the Consumer Experience
While stocking efficiency for the retailer is essential, it shouldn't be the only priority. Make sure your RRP is also visually appealing for consumers. By leveraging digital print, brands can produce short-run orders that feature unique elements, like versioning and variable print.
Without the need for print plates and reduced tooling, brands can create RRP that aligns with holidays, special events, and limited-run promotions. Brands can also create personalized RRP based on different regions to attract local consumers better.
Retail-Ready Packaging Styles from Fantastapack
Fantastapack offers a variety of packaging solutions for retail, including two retail-ready packaging styles. These styles can be custom sized to fit your product and branded to showcase your brand's unique look and feel.
The Tuck Top Gravity Feed is a compact and cost-effective counter display designed to dispense small individually wrapped goods, such as candy and lip balm. To utilize the style, simply load the product into the box and properly seal it with tape before shipping.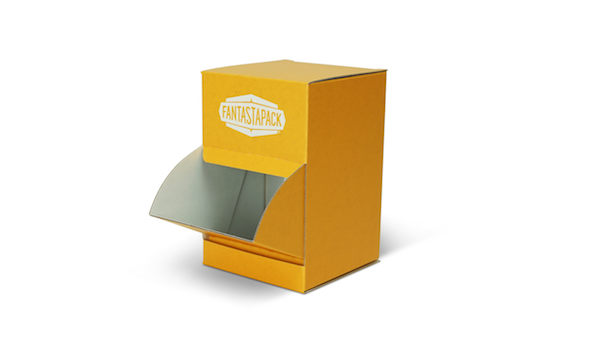 The Angled Roll Side Tray is designed to display small retail items and impulse buys, such as cosmetics, vitamins, and more. It can be custom sized to fit your product and branded to showcase your company's unique look and feel. After loading the Angled Roll Side Tray with your product, this style requires an additional box, such as a Half-Slotted Container, for shipping purposes.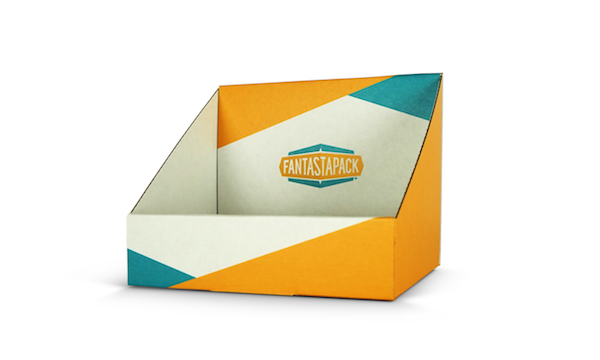 Are You Ready to Get Retail-Ready?
Although we work with a wide range of eCommerce brands, we're no stranger to brick-and-mortar. Our easy-to-use platform allows brands of all sizes to create high-quality, custom packaging, labels, and retail displays to delight shoppers in any aisle.
Your custom packaging is only a few clicks away. Browse our website to explore our custom retail packaging solutions. If you aren't sure where to start, download our Flipbook to see material samples, project inspirations, and receive 15% off your first order.