In today's competitive retail marketplace, space is both extremely limited and highly valuable. Brands must optimize any position on counters and shelves to its fullest potential in order to stand out among the crowd and attract the eyes of shoppers.
Utilizing effective retail point-of-purchase (P.O.P.) displays can help increase brand awareness and drive sales when it matters the most — at checkout. Shoppers who are at the point of purchase are likely already in the mood to buy, so brands have a great opportunity to encourage additional purchases at this stage in the buying process.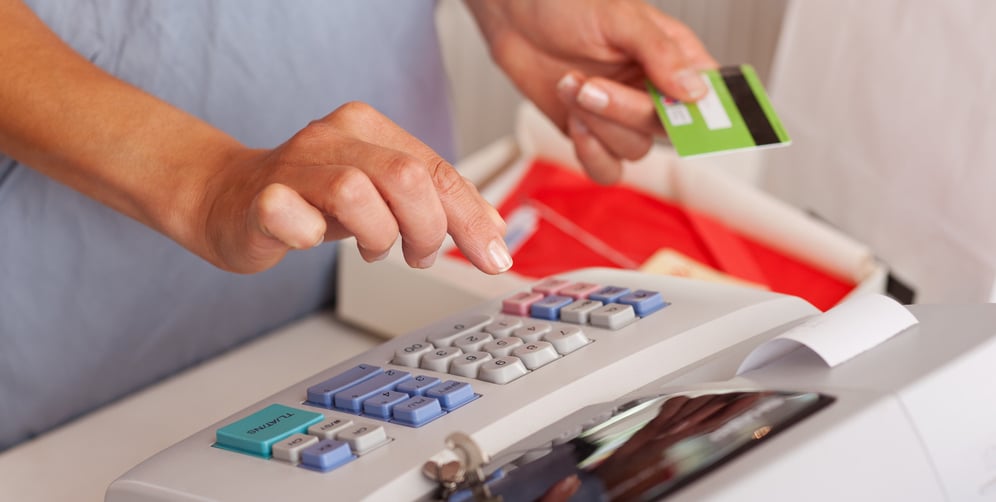 Here are 3 tips to help you incorporate countertop P.O.P. displays into your retail sales strategy:
Tip #1: Choose the Right Impulse Products
The best impulse products are compact, convenient, and inexpensive. These are items that many shoppers should be able to add to their shopping basket without the need for much consideration. Impulse products can include frequently forgotten items, travel-sized products, and seasonal treats, such as Easter chocolates or candy canes. We recommend choosing a product that is not specific to one target demographic but rather can be used by anyone.
Be sure to only promote one product at a time. Offering multiple products within one countertop display can be confusing to the consumer. As a result, there's an increased likelihood that they would ultimately talk themselves out of making the purchase.
Tip #2: Incorporate Simple and Concise Messaging
At the checkout counter, shoppers aren't likely to stand around and read long-winded content on your countertop display. Instead, opt for a clear, simple, and concise message that drives action. To create a strong call-to-action, think about the shopper's primary need and what sales objective you want to accomplish.
For example: if your product was lip balm, your messaging might be, "Pick up two before you go!" The messaging on your display should identify an issue and offer a quick and easy solution to create product relevance.
Tip #3: Use Colors and Graphics that POP
It's important to make the most visual impact you can at the crucial point of purchase. After all, your display only has a couple of seconds to capture shopper attention before they are diverted. It can be helpful to incorporate bright colors or eye-catching graphics on your display while being mindful that your choices remain appropriate for your brand and the product at hand.
In addition, regularly updating your P.O.P. display graphics can ensure your display remains relevant to consumers, especially during key retail events — such as the holidays and back-to-school season. Fortunately, through the power of digital print, you can easily switch up your packaging design without breaking the bank.
Custom P.O.P. Displays from Fantastapack
Fantastapack offers a variety of custom point-of-purchase displays, including two countertop display styles to help brands succeed in the brick-and-mortar landscape.
The Angled Roll Side Tray is designed to promote small retail items and impulse buys, such as snack bars, cosmetics, vitamins, and more. It can be custom sized to fit the dimensions of your specific product, and branded to showcase your company's unique look and feel.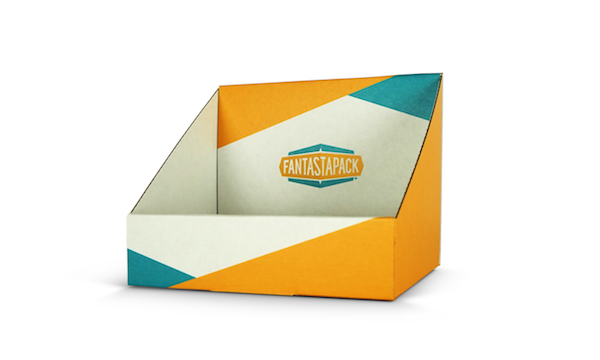 The Tuck Top Gravity Feed is a compact and a cost-effective counter display designed to dispense small individually wrapped goods, such as candy and lip balm.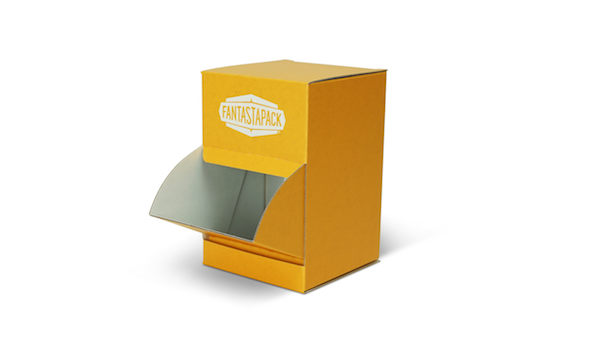 Get Your Own Custom P.O.P. Retail Display Today
Don't miss out on the opportunity to make an extra sale at checkout. An effective point-of-purchase display can raise brand awareness and encourage shoppers to make an impulse buy. With custom sizing and your own graphics, Fantastapack can help you create the perfect counter display to showcase your product and increase retail sales.
We're your go-to partner for high-quality custom boxes, labels, and P.O.P. displays. Our easy-to-use platform empowers businesses of all sizes to produce beautiful, full-color packaging powered by the flexibility and speed of digital print. Custom design your own counter display and order now!