With a few clicks, online shoppers can purchase nearly anything and have it delivered. A king-sized mattress? No problem. A bottle of wine? With the proper identification, yes! Online shoppers have a seemingly infinite number of product options at their fingertips. As a result, eCommerce has forced brands to find new ways to differentiate themselves from competitors.
Packaging has increasingly become more critical in the digital retail space, as it is often the only physical touchpoint that a customer will experience of your brand. Far too often, brands neglect the shipping box as a part of their comprehensive packaging experience strategy.

Why is Branding Your Custom Shipping Box Important?
What would you prefer to receive — a plain, brown box or a colorful, well-designed branded shipping box? While both might serve the same function, the branded shipping box will leave a lasting impression.
Delivering a custom printed shipping box elevates the packaging experience when your product arrives at your customer's door. This packaging experience can heavily influence brand loyalty and can make the difference between a returning customer and a one-time buyer. This is why it's important to choose the right shipping box style that protects your product and delights your customer.
Here are three additional benefits to using a custom shipping box rather than a standard size or stock option.
Benefit #1: Enhance Product Protection
Using a stock shipping box that is too small or large for your product can lead to damage during transit. Having a custom shipping box perfectly tailored to your product can reduce the likelihood of customer returns and exchanges.
Benefit #2: Sustainability
Custom boxes that are sized appropriately to your specific product, rather than stock boxes, helps to reduce packaging waste. Custom shipping boxes also minimize the need for void fill (such as packing peanuts and bubble wrap) or even eliminate it in some cases.
Benefit #3: Cost Savings
When it comes to shipping boxes, the concept of "one-size-fits-all" isn't typically the most cost-effective practice. Using right-sized custom shipping boxes can lower freight costs and ensures that you're not paying to ship excess material or empty space.
Common (and Unique!) Custom Shipping Box Styles
Fantastapack currently offers nine custom shipping box styles. Let's take a look at each one and how they might work for your shipping needs.
Regular Slotted Containers
Picture a box in your head. Chances are, you're thinking of the Regular Slotted Container (RSC). As the #1 most common box style in the world, RSCs are economical and versatile — often used for shipping, storage, and many other applications. With this box style, all the flaps have the same length, and the two outer flaps meet at the center of the box. For shipping purposes, RSCs require tape to seal.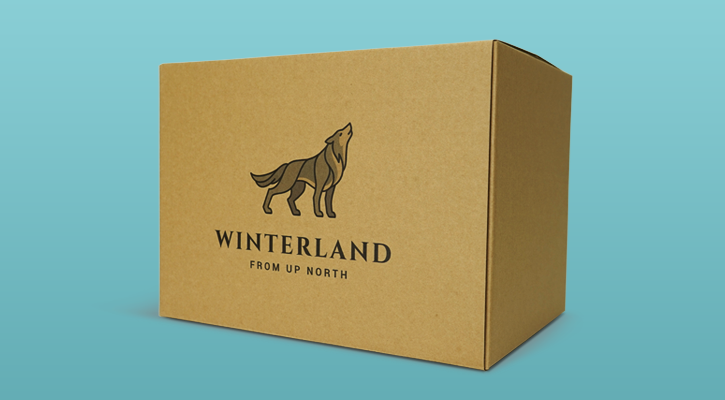 For shipping boxes that function similar to the RSC but offer different features, the RSC Auto Bottom and RSC Snap Lock Bottom are both viable alternatives. The RSC Auto Bottom has a pre-glued bottom for quicker assembly and product loading. The RSC Snap Lock Bottom features interlocking flaps that create a secured lock to hold the product inside. These styles both excel in environments where many boxes must be assembled and loaded with product at a quick pace. The slightly higher cost for these styles can be offset by the labor savings in a reduced assembly time and additional savings from a reduced need for tape.
If your shipping needs call for a heavy-duty solution, the Full Overlap box feature flaps that extend entirely to the opposite side of the box when folded. These flaps add structural strength, making this style ideal for storing or shipping bulky items.
One Piece Folders
When shipping a product that is flat with a shallow depth, the One Piece Folder is typically the most efficient shipping box style. This style features a single piece of corrugated with a flat bottom, end flaps, and side flaps that fold over and meet to form the top of the box.
For enhanced protection, the One Piece Folder with Air Cells style is designed to absorb shock and prevent item damage during transit. Similarly, the Book Mailer also has air cells for added impact protection.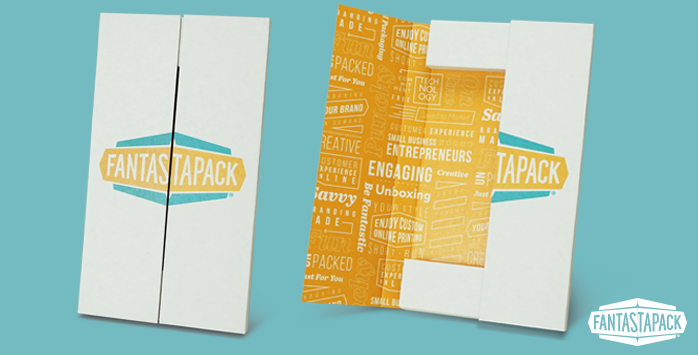 When product presentation is a priority, the Self-Locking One Piece Folder opens up to beautifully display the product. This style features self-locking tabs to secure the contents inside.
Five Panel Folder
The Five Panel Folder (5PF) is ideal for shipping long, heavy, or flat products, such as fishing poles, golf clubs, and baseball bats. The box style allows for easy loading during fulfillment — simply wrap the box around the product and secure it with tape.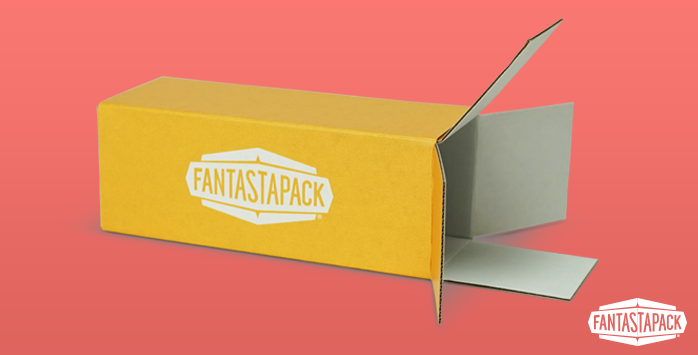 Create Custom Shipping Boxes with Fantastapack
The shipping box may be the last thing on your mind, but it's the first thing a customer sees when their order arrives. When you're ready to design your custom shipping box, Fantastapack can bring your vision to life. Learn more about each box style available by browsing through our entire custom shipping box selection.