What first started as a class project for the University of Washington's Entrepreneurship Program has now blossomed into a popular, up-and-coming brand: Sugar + Spoon. Classmates William Hubbel and Ivana Orlovic founded Seattle's first safe-to-eat sugar dough company. Now in their second year of business, Sugar + Spoon has a retail location on "The Ave" in Seattle and food trucks that travel through neighborhoods in the region.
Featuring vibrant colors and bold messaging, the brand is fun, trendy, and inviting. The contrasting teal and pink in their branding establish strong customer recognition. This unique style reflects throughout all business areas — from their storefront to truck wraps.
When coronavirus became a widespread issue this past spring, the Sugar + Spoon team had to pivot their sales model quickly. Since they relied heavily on foot traffic from tourists, the lack of tourism meant they had to think fast to make up for lost retail revenue.
The solution? Ecommerce.
From Brick-and-Mortar Retail to Ecommerce
The Sugar + Spoon team first launched next-day delivery for local customers through their new online store. With the success of local delivery and the growing demand from cookie dough fans from around the United States, the team decided to launch nationwide shipping. The challenge became translating their brand experience into packaging. They needed their packaging's look and feel to align with their customers' aesthetics and high expectations while being cost-effective.
"We have so many amazing customers all over the country and want to make sure we can get our product to everyone while still providing the same Sugar + Spoon experience," Ivana says. "Whether that be from the truck or our online store."
Partnering with a Custom Packaging Provider
When looking for a custom packaging partner, product quality was their highest priority. The custom boxes needed to withstand wear and tear while preserving the cookie dough jars instead. Packaging warehousing was also an issue. As with many small businesses, the team had limited space to store their packaging. This meant that they needed to order exact amounts, with the opportunity to scale up in quantity according to demand.
To help the team expand into ecommerce, they turned to Fantastapack. "We were so impressed with our custom boxes from Fantastapack. Not only was it a beautiful box, but the quality and durability of the boxes are amazing," Ivana says.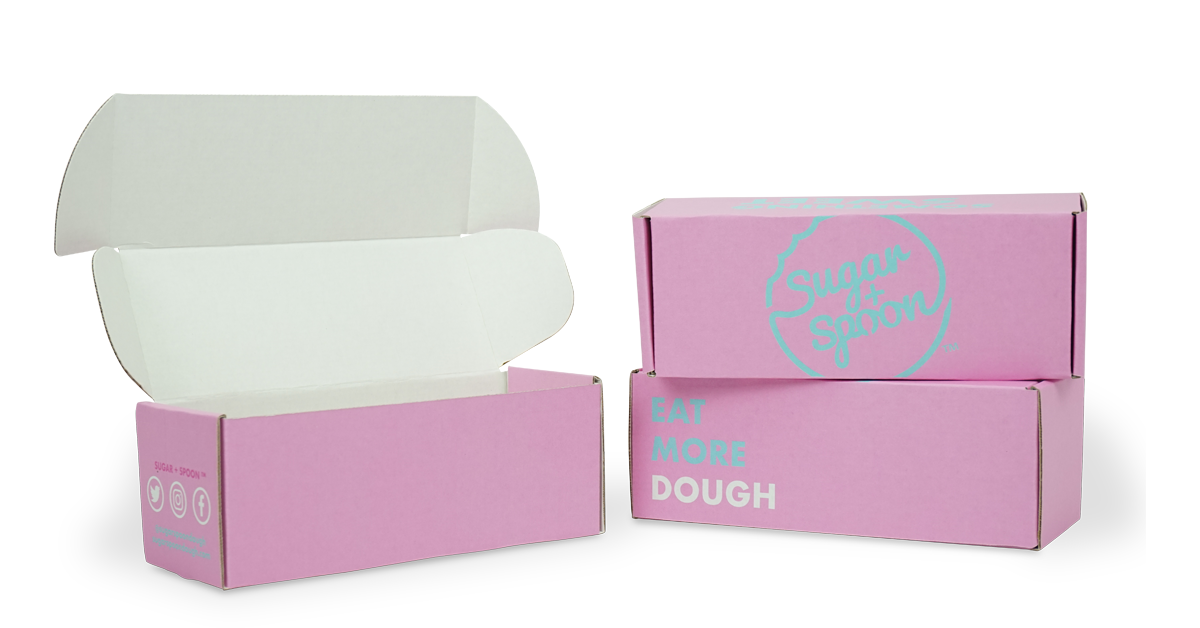 The team chose the Roll End Front Tuck with Dust Flaps — our most popular mailer box style. This style provided a fantastic solution for Sugar + Spoon since it offers high-end presentation value and product security. Front flaps lock into the main body to add structural strength, while side flaps prevent dirt and dust from reaching the product inside.
What's Next for Sugar + Spoon?
The Sugar + Spoon brand shows no sign of slowing down any time soon. Along with serving cookie dough fans at their retail and pop-up locations, the team is continuing to expand their nationwide online store.
Ivana recognizes that entrepreneurship is no easy feat. However, the pay-off can be worth the risk. "It is the most rewarding experience that will teach you more than any school in the world can. You just have to start! It may be daunting and scary, but dive in head-first and enjoy the ride!"
If you're ready to expand your ecommerce presence, Fantastapack's easy-to-use platform supports brands of all sizes. Design and order custom boxes, product labels, and retail displays with no minimum quantity requirements. Are you starting your first custom packaging project? Download our free Flipbook for packaging tips, design inspiration, and more. As a bonus: get a 15% off discount off your first order!