Patterns are arguably one of the most effective design elements in packaging. They can breathe life around a simple logo and add instant dimension to any box— creating an eye-catching packaging experience that leaves a long-lasting impression.
Major brands like FabFitFun and Birch Box recognize the power that patterns can have to wow. Patterns enable brands to incorporate seasonality into their packaging strategy. As a result, patterns help brands maintain relevancy with each new season or holiday. However, major brands aren't the only ones using patterns to their advantage. Many Fantastapack customers create custom boxes using our predesigned patterns in Art Studio, our online graphics editing software.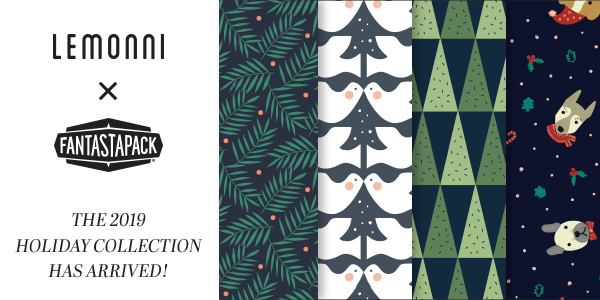 We love patterns just as much as our customers do, and we are excited to announce our new collaboration with pattern designer LEMONNI.
Meet LEMONNI
Annie Chen, the creative force behind LEMONNI, has a distinct design style that can be described as whimsical with a retro 60's feel. Her inspiration comes from traveling, her appreciation for nature, and her love for animals — which is apparent throughout her designs. Annie is known for her use of playful motifs, clean lines, and vibrant colors.
Annie founded LEMONNI in 2013. As a self-taught graphic designer, her passion for patterns is the focus of her work. She believes that patterns are versatile for packaging because of its malleable quality. By scaling a pattern up or down, or altering the colors, you can change the look of a design entirely.
"This is one of the factors that inspired me to create patterns," Annie says. "I enjoy every step of the process."
From stationery to furniture, Annie's work can be found across various mediums. And now, Fantastapack customers can design and order custom boxes featuring a curated selection of LEMONNI patterns that will undoubtedly delight.
Explore the 2019 Holiday Collection
The 2019 Holiday Collection is our first LEMONNI x Fantastapack release, featuring four unique and festive patterns. The collection is available now for corrugated boxes designed with Art Studio. Art Studio makes it easy to apply a predesigned pattern with the click of a button. You can apply patterns to either the inside or outside of the box (or both!) depending on the print options you choose when customizing your box.
To get started, choose a box style, enter your desired dimensions and quantity, and click "Design Online" from any of our custom box pages. For additional instructions, watch our step-by-step Art Studio video tutorial to learn how to add patterns, incorporate graphics, and much more.