We are excited to announce the launch of the PurePrint Materials Collection, our new line of high-end material and print combinations. The PurePrint Materials Collection combines offset-quality digital print with premium materials for attention-grabbing results — available exclusively for Fantastapack customers. The collection includes: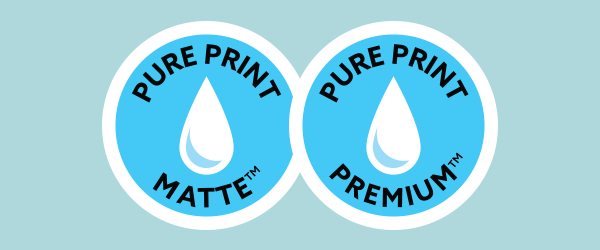 PurePrint Premium™ combines our brightest white material with our best print quality to deliver vivid, full-color impact and high-end results, using food-safe True Water-Based Inks.
PurePrint Matte™ is understated yet impactful, pairing a mottled white material with our best print quality to deliver a luxurious shine-free look using food-safe True Water-Based Inks.
Inks Safe for Primary Packaging
The PurePrint Materials Collection leverages high-quality corrugated substrates and combines them with the printing power of the HP PageWide C500 press. The C500 press uses True Water-Based Inks, which comply with even the most stringent global food safety regulations for packaging, including Nestlé Guidance and Swiss Ordinance. Because of this, both PurePrint Premium™ and PurePrint Matte™ provide the safest print options for sensitive packaging applications, including food and beverage, beauty, pet, and children's products.
You may be wondering: Why is using True Water-Based Inks important?
Because ink is applied directly to the substrate, digitally printed packaging requires that the inks be fully cured or dried during the production process. Improperly cured inks could result in smudging, streaking, and potentially a ruined print job. However, not all digitally printed inks are safe for primary packaging applications. Most digital presses use UV-cured inks that are not safe for consumption.
If these inks aren't fully cured during the production process, they can migrate into the corrugated fiberboard or other packaging materials and potentially contaminate the product within. Ink migration can lead to public health and safety concerns and put both consumers and brands at risk.
Choose from the PurePrint Materials Collection for Your Custom Boxes
It only takes seconds to make a first impression. Whether your next marketing efforts call for high-end packaging solutions or you want to ensure your packaging is safe for primary packaging, the PurePrint Materials Collection is the complete package for the moments that matter most.
Fantastapack customers can choose either PurePrint Premium™ or PurePrint Matte™ when placing an order for custom boxes. Select a box style, add your quantities and dimensions, then choose your desired material option under the Material drop-down menu.
Design and order your custom boxes using the PurePrint Materials Collection today.