Introducing JavaUp: Snacks With Perks
Founded in 2016 by healthy food entrepreneur Lisa Newmann, JavaUp® is an innovative snack brand leading the way in the new Edible Coffee category. The company, Coffee Snacks, Inc., makes its home in the Berkshire hills of Massachusetts — a community made up of farmers, artists, and food lovers. The brand celebrates organic coffee, traceable ingredients, real food, and a delicious outcome.
Lisa believes that snacks should provide a delectable source of antioxidant-rich ingredients and sustainable energy. Inspired by the increasingly artificial food industry, JavaUp was born out of the desire to promote the environmental benefits of responsibly sourced coffees and great tasting, nutritionally sound snacks.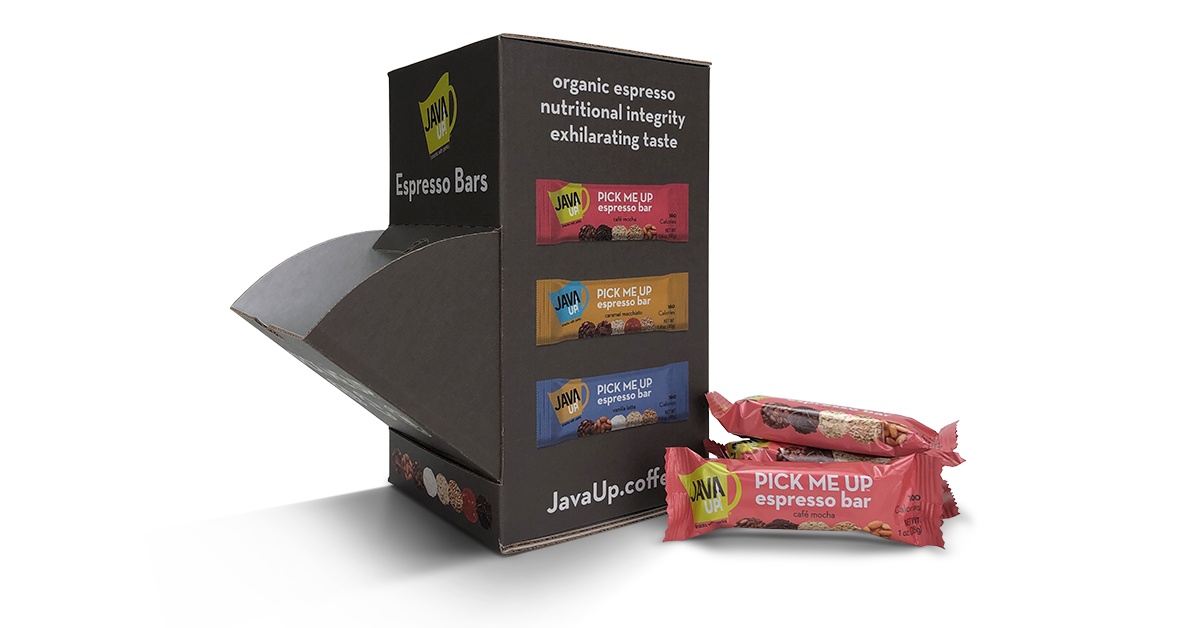 "My professional goal is linked to creating an abundance of organic, coffee-powered snacks to communicate with urgency and grace how coffee farming techniques can reverse the effects of climate change," she says.
Bringing Together Branding & Packaging
Retail presence is essential for emerging brands, like JavaUp. If a brand offers a unique product, store buyers and distributors are eager to buy it and put it on their shelves. However, a problem that many brands face is visibility. They struggle with getting the product off the shelf and into the hands of consumers. "The challenge is to capture the attention of passersby, provide essential information immediately, and stand out with a compelling design to get noticed," Lisa says.
To be seen in a competitive retail space, emerging brands must have a strong and memorable identity reflected in their packaging. Over the last few years, Lisa and her team have worked assiduously to refine the look and feel of the brand.
Lisa is inspired by minimalism — the philosophy of less is more. Working with Boston-based designer, Amanda Griffin, Lisa and her team created a graphic strategy that features clean lines, bold colors, and simple messaging to portray the quality and integrity that consumers expect in natural and organic foods. This unique style is highlighted throughout JavaUp's packaging.
With a minimalist "less sell" approach, brands can inspire confidence and trust, and allow a consumer to discover what they're offering. The discovery process is a powerful one, especially for a new brand.
"Clarity and simplicity communicate quickly, and respect a consumer's time and intelligence," she says.
Driving Point-of-Purchase Sales in the Retail Aisles
For JavaUp's latest packaging project, Lisa needed a retail display that would be user-friendly and consumer-friendly at the store level. She sought to find a cost-effective and flexible display that could serve form and function. The display had to dispense product at grocery checkouts, coffee stations, offices, and in unique settings. It also had to stand out and drive sales at the point of purchase.
After researching a variety of options, Lisa and her team decided on the Tuck Top Gravity Feed, our compact and efficient corrugated countertop display. This style provided a fantastic solution for JavaUp since it is designed to maximize branding while dispensing individually wrapped goods with ease.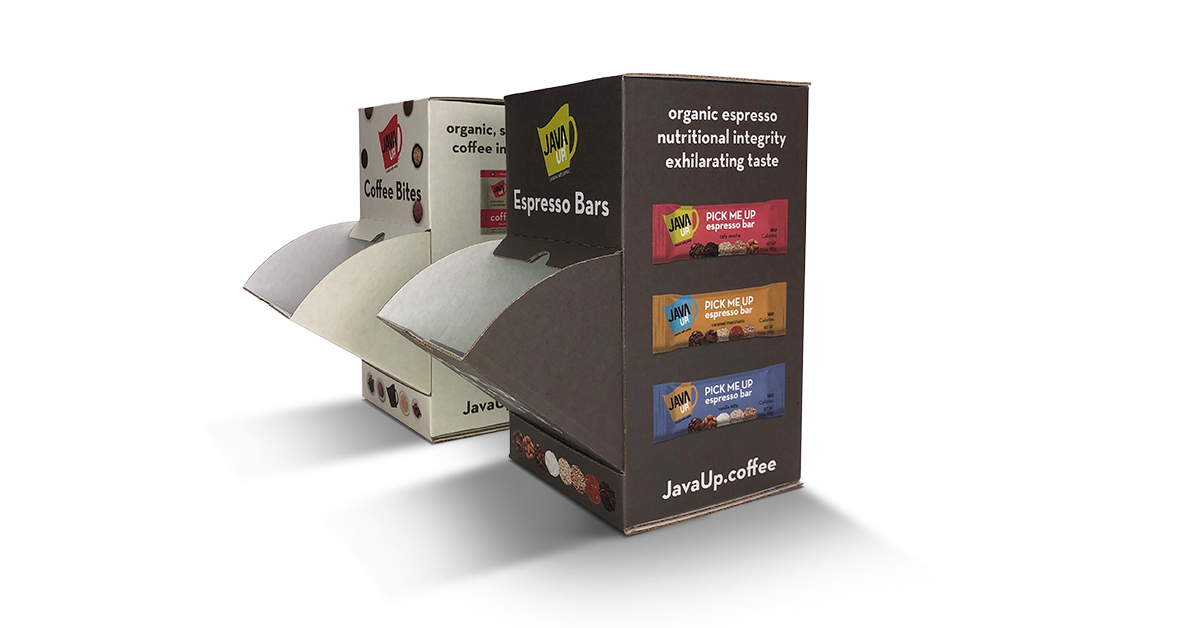 The Tuck Top Gravity Feed is a retail-ready display style, meaning that it arrives at the retailer in a self-contained unit with minimal assembly and unpacking required. Another added benefit to this style is it is easy to break down and dispose of. Since it is made of corrugated material, retail workers can recycle the display to reduce packaging waste.
At the same time, the Tuck Top Gravity Feed dispenser is durable and designed to support reuse. The brand offers cases of refill product, letting customers know that both JavaUp and Fantastapack appreciate their respect for sustainable packaging and the benefits to the environment.

What's Up Next for JavaUp?
Having a strong brand presence has not only helped JavaUp achieve growth in retail, but the brand also continues to gain recognition online. JavaUp recently decided to offer their 24- and 36-pack Tuck Top Gravity Feed dispensers in their online stores so coffee snack enthusiasts can maintain supplies in their kitchens with beautifully designed easy access.
Along with developing new products, Lisa plans to continue her mission of promoting responsible, integrative farming techniques that address climate change and her advisory role with emerging brands.
As a mentor to start-up entrepreneurs in the food and beverage industry, Lisa's best advice for aspiring business owners is to surround themselves with experienced and communicative individuals. "Whether it's an Advisory Board or a team of employees, hire and select people who will hold your feet to the fire and provide expertise with kindness," she says. Lisa serves on mentoring boards to help burgeoning businesses and emerging entrepreneurs. She hopes her business colleagues have felt that her input has offered what she aspires to give.
Are You Ready to Rock Retail?
For emerging brands, entering into the competitive retail space can be daunting. Fantastapack's easy-to-use platform empowers brands of all sizes to design and order full-color custom printed boxes, product labels, and point-of-purchase retail displays with ease. With no minimum order quantities required, brands can easily test and optimize the look and feel of their packaging without breaking the bank.