'Tis the Season for Holiday Packaging
The holiday season is the biggest consumer spending event of the year. According to the National Retail Federation, 93 percent of consumers plan to celebrate the holidays, with each person spending an average of $967 on gifts, decorations, food, and other purchases.
By the time Thanksgiving roll around, you can expect to see reindeers, snowflakes, and Jolly Ol' St. Nick on nearly every store aisle and online marketplace. Major brands deck the halls with holiday-themed packaging — all vying for the attention of consumers who are eager to spend during this time.
Many small e-Commerce businesses may think that they're in no position to offer holiday packaging. With early and careful planning, creative vision, and the right packaging partner, subscription box businesses can effectively incorporate holiday boxes and label designs to make a festive statement without breaking the bank.
Is Holiday Packaging Worth It?
Short answer: yes! Companies big and small have to fight for the attention of consumers — especially during the competitive holiday shopping season. As a key factor in the buying decision, packaging is one of the major ways brands can differentiate themselves.
For subscription box businesses, there is no retail experience to deliver to the consumer, and so packaging must take its place. Packaging delivers the overall unboxing experience — the intentional way curated products are presented to customers. From festive labels to special edition box designs, holiday packaging creates the perfect opportunity for subscription box businesses to engage with customers, reinforce their brand identity, and seize the excitement of the season.
Holiday packaging can also add convenience and time-saving value for customers. By providing a festive packaging design, subscription boxes don't require additional wrapping to be given as a gift. Seasonal packaging can help buyers bypass the stress of the holidays and make it easy for them to deliver a festive gift experience for the end receiver — no wraps or bows required!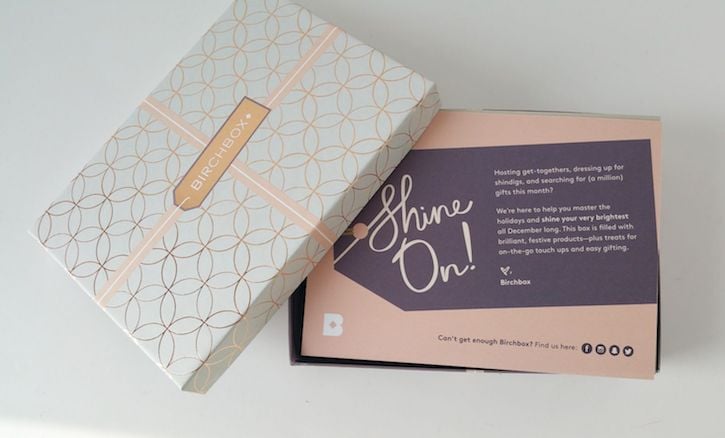 The Time to Order is Now
The early bird catches the worm. This is especially true when it comes to holiday packaging. Just as consumer demand peaks during the holidays, the demand for packaging services increases to follow suit. Subscription box businesses should not wait until the last minute to plan their holiday packaging project. In fact, major brands begin planning months and even years in advance. Planning early ensures that your creative team has enough time to design and iterate, and your manufacturing partner can produce the holiday packaging with ample time.
When taking into the consideration the possibility of shipping delays, surging volume orders, and busy production schedules across the board, starting your holiday packaging project early can help eliminate some of the stress that's associated with this hectic season.
Choosing the Right Packaging Partner
After you've set your holiday packaging plan, it's time to find a manufacturer. You may be tempted to look for the lowest priced option, but that's not always the best choice. The right packaging partner for your subscription box businesses offers creative and accessible solutions to support your projects year-round. If you're thinking about ordering beautiful, customized boxes for the season, now is the time to place your order with Fantastapack.
Because Fantastapack is powered by digital print, adding a holiday element to your existing packaging design is a breeze. Digital printing does not require custom print plates, thus allowing for quicker turnaround times compared to the traditional flexography solution.
Digital print offers another reason to rejoice: there are no minimum order volumes. As a result, subscription box businesses can order an exact number of special edition boxes without the fear of having an excess of inventory once the holidays are over.
Fantastapack's simple yet powerful web-to-pack platform allows subscription box businesses of all sizes to design and order full-color custom printed boxes and labels with ease. Design your holiday packaging with Adobe Illustrator or utilize our easy-to-use Art Studio tool to create custom packaging to fit any occasion. Art Studio features an online library of premade graphics and seasonal patterns to help you get started.
Celebrating the Power of Digital Print
Like chestnuts roasting on an open fire, holiday packaging has become a tradition for major brands and small eCommerce businesses alike. Not only is it a great opportunity to connect and engage with customers, holiday packaging enhances the brand experience while taking advantage of the excitement of the season.
Don't wait until the snow starts falling to start planning your holiday packaging project. Take a look at our popular mailer box styles here to get started!