Finding fresh ways to engage and delight event attendees presents a serious challenge for brands and event planners every day. In today's digital age, much of the focus is placed on creating shareable moments that can project your event beyond the venue and onto attendees' social media streams.
One way to capture attention and provide a unique experience is through custom branded event packaging. People are only just beginning to realize the impact that custom packaging can have for events — serving as a multipurpose tool to add promotional value, increase brand awareness, and create a share-worthy, aesthetically cohesive experience that will get people talking.
Whether you're throwing an event for thousands of attendees or just a handful, custom event packaging is a unique, must-have element that should not be overlooked. Here are some ideas on how to leverage this tool for your next event:
Large-Scale Events: Conferences, Conventions, and Tradeshows
It seems like there is a conference or convention for every industry and niche interest group. In fact, we may not be too far from that reality. According to the U.S. Bureau of Labor Statistics, the number of conventions is expected to increase by 44% from 2010 to 2020.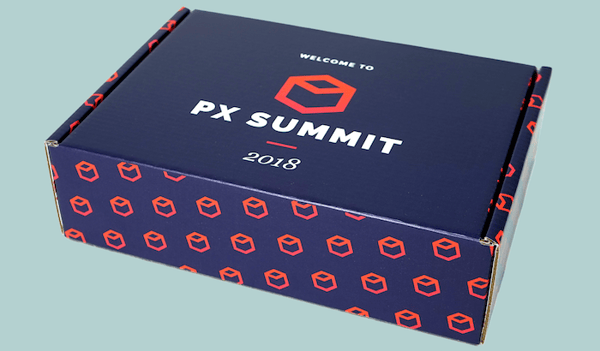 When it comes to large-scale events and conferences, it's important to ensure cohesive and consistent branding throughout all digital and physical touchpoints — from your website and ticket design to the second a guest slips on their badge and steps foot in the doors, it all has to be consistent. Custom branded mailer boxes are a great way to deliver tickets, welcome gifts, and other promotional materials in the weeks leading up to an event. This helps build excitement and encourages attendees to share their unboxing experience on social media, creating a buzz before the event even begins.
PR Events: Brand and Product Launches
Public relations events are all about creating buzz among media outlets and industry influencers. The goal is to make an excellent, on-brand impression with your audience to build sales momentum.
While many brands host their press kits online, it's always a good idea to send out physical press kits for journalists and reporters prior to a PR event. Press kits typically contain company background information, press releases, and other promotional materials to support media coverage. Custom press kits are a great way to grab the attention of reporters and industry insiders by delivering a tangible, branded item right into their hands, in a memorable way.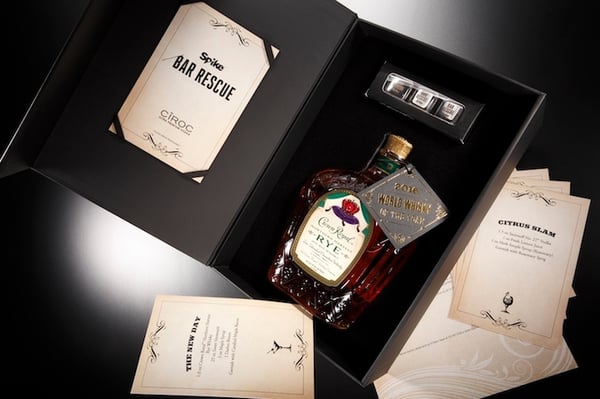 Image Source
Free swag is almost a given at any press event. Consider supplying branded gift tote boxes for attendees to carry around and take home. Not only are gift tote boxes functional and provide added brand value, but they can also be reused long after the press event is over.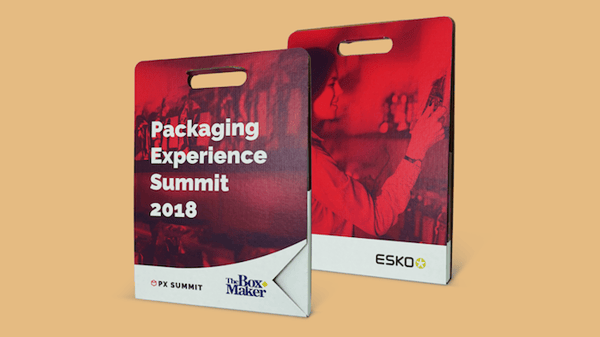 VIP's Only: Employee and Client Appreciation Events, Galas, and Exclusive Parties
A well-planned private or exclusive event can elevate your brand reputation, foster loyalty, boost team morale, and even drive sales. This includes employee appreciation events, client appreciation events, galas, VIP-only parties, and more. When executed correctly, custom packaging can help boost attendance and ensure future participation for events to come.
Custom branded mailers are a great way to ship "thank you" gifts after the event. Out-of-town guests can spend a lot of time and money making it to your party, and a thank you gift box goes a long way to show your appreciation.
Adding a Personal Touch: Individualized Packaging
For some events, providing a great – but homogenous – attendee experience is not enough. Adding a personal touch to packaging is a simple yet powerful way to make your guests feel special, without breaking the bank. For events like weddings, holiday parties, and employee retreats, consider printing individual attendee's names right on their box.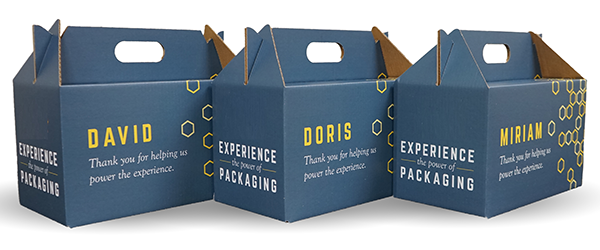 Fantastapack Gift Totes make the perfect gift!
While this may sound complicated (and expensive!), digital print makes personalized packaging projects possible. This print method allows for each unit to be customized down to a volume of one. Find out why below!
What to Look for in a Custom Event Packaging Partner
When selecting the right event packaging partner, order speed and quality are two key factors to consider. Since many event planners and marketers work on a tight timeline with a strict budget, they need a trustworthy manufacturing partner to produce and deliver high-quality custom packaging on time, every time.
Because our manufacturing plant is powered by digital print, custom print plates are not required for your packaging project. As a result, the turnaround time for your order is expedited when compared to traditional print methods. Digital printing also allows you to order the exact number of custom boxes or labels that you need for your event, without the fear of having an excess of inventory afterward. With no minimum order requirements, you can order as many (or as few!) boxes as you need.
When it comes to color, digital print offers the full CMYK color spectrum at the same price, regardless of how many colors you use. Other print methods become costlier as you add colors, which means that you will ultimately pay more for your packaging. Depending on your order volume, digital printing can be a more cost-effective and quick-turn option for event packaging.
Utilize Fantastapack for Your Next Event
Don't underestimate the power of event packaging. Custom, personalized packaging can be a real player in creating a share-worthy, aesthetically cohesive event — even long after the party is over. Before your next event, take a look at the many custom packaging offerings that Fantastapack can supply, including custom boxes, personalized labels, and more.
Our easy-to-use platform allows you to truly customize your box to match your brand or event theme. Simply choose your packaging style, enter your custom dimensions and quantity, and click "Design Online" — no fancy design programs needed! Now that's something worth celebrating.