Founded in 2008 by artist, activist, and educator Louie Gong, Eighth Generation is a Seattle-based art and lifestyle brand owned by the Snoqualmie Tribe. Louie originally started the brand to sell custom-designed sneakers. Eighth Generation has since become of the fastest-growing Native-owned businesses in the country, including a flagship brick-and-mortar at Seattle's Pike Place Market and a thriving e-commerce storefront.
Eighth Generation is committed to spotlighting Native artists and producing 100% Native-designed products. Through their Inspired Natives™ Project, they provide resources to help artists build their business and industry knowledge while addressing the social and economic impact of cultural appropriation.
Addressing Business Needs Through Custom Packaging
To prepare for the launch of their exclusive limited edition Gold Label Throw Blankets, Eighth Generation needed to source corrugated packaging that met their business needs. The custom box had to deliver high-end presentation value to match the quality and beauty of the product inside. Due to the limited nature of the launch, they needed to place a small-quantity order with the flexibility to order more if needed.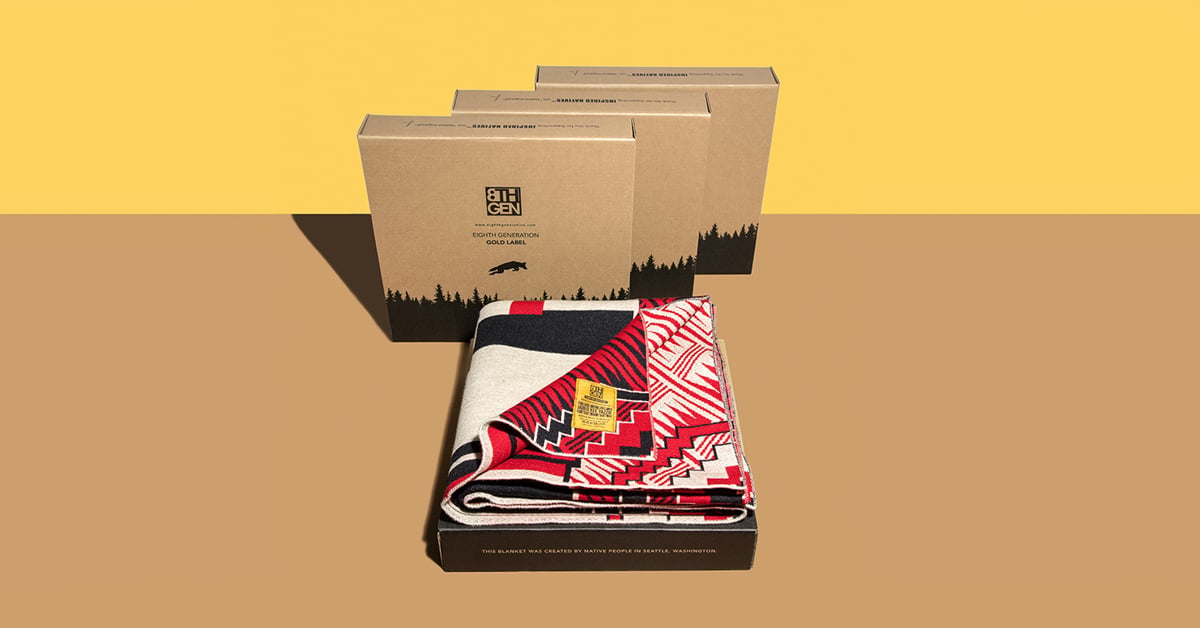 Along with packaging quality and order quantity, another concern for the Eighth Generation team is storage. Warehousing space is highly valuable, especially for growing brands with both retail and e-commerce presence. Excess packaging can take up valuable real estate that may otherwise facilitate production, fulfillment, and other key business operations.
Cue: Fantastapack.
Through working with Fantastapack, Eighth Generation found a partner that offered them the packaging quality and flexibility that they were seeking. Fantastapack also utilizes digital print capabilities that substantially reduce environmental impact compared to other manufacturers. This includes leveraging fully sustainable HP digital press technologies that minimize waste, reduce tooling needs, and use water-based inks that are fully recyclable and compostable without extra processes.
Designing Custom Packaging Artwork for Impact
The Eighth Generation team chose our most popular mailer style, the Roll End Front Tuck with Dust Flaps, to produce their custom box. This box style is a fantastic solution for Eighth Generation since it offers high-end presentation value and added product security. Front flaps lock into the main body to add structural strength, while side flaps prevent debris from reaching the product inside.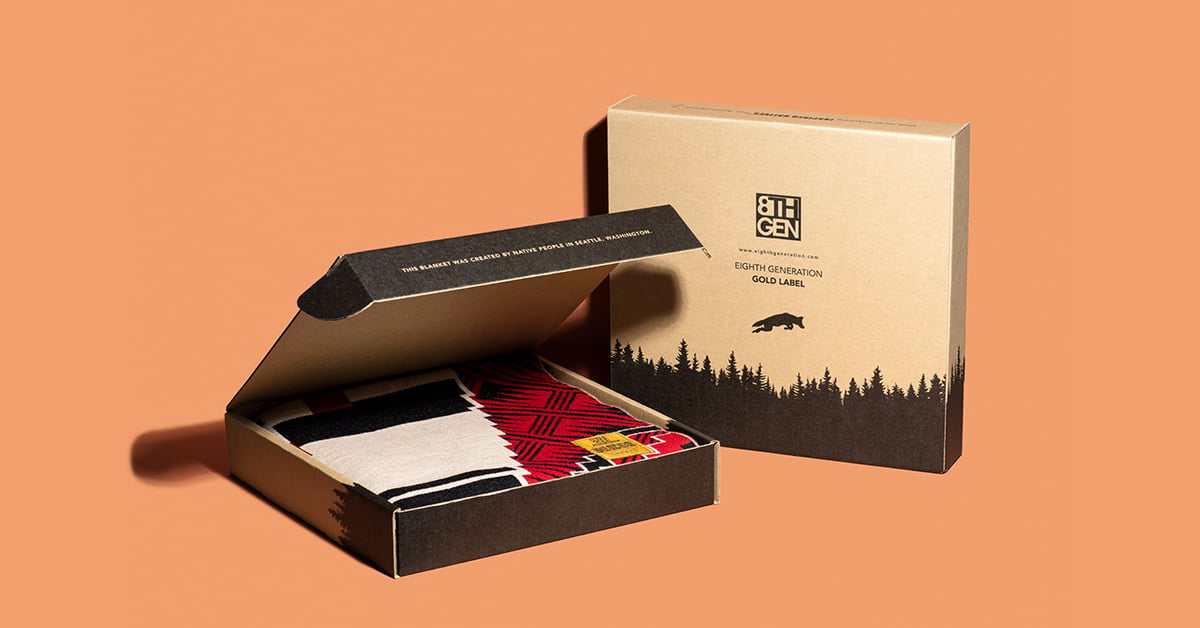 Using Fantastapack's online art editor, the Eighth Generation team created an understated yet impactful design featuring rich black ink on Kraft material, allowing the artwork to take center stage.
"The box features a tree line and a coyote, which has a lot of significance to the way we identify as a brand," says Kim Kroeker, Product Development Lead at Eighth Generation. The Eighth Generation team explains that the tree line around the box pays homage to their home in the Pacific Northwest. The coyote represents the guile and determination of Native and Indigenous people.
Celebrating a Successful Product Launch & More to Come
The result of their limited edition Gold Label Throw Blanket launch was a resounding success, with multiple designs selling out the same day. "Our team is thrilled with our Gold Label Box packaging from Fantastapack," says Devon Kelley, Marketing Manager at Eighth Generation. "Our Gold Label Blankets are meant to be heirloom items, and we know that the quality and durability of their Fantastapack boxes will also stand the test of time."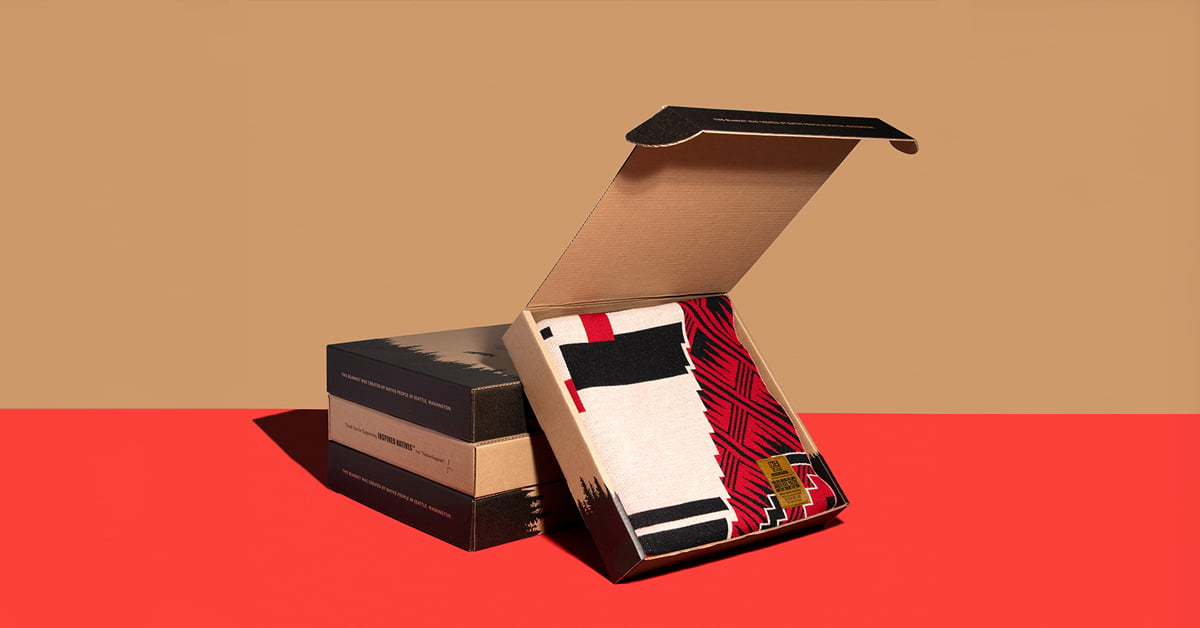 The Eighth Generation team plan to continue launching new blankets and gifts while engaging and building relationships with Native artists around the country. They also have major global brand collaborations in the works, including a capsule collection with Starbucks that was recently released.
If you're preparing to launch a new product into the marketplace, Fantastapack is your go-to source for high-quality custom packaging solutions. Create the custom boxes, labels, and displays that you need for your launch with our easy-to-use platform.