Make an Impression with Subscription Box Packaging
Think of any great brand and you get an immediate visual. It's a combination of graphics and materials that crystalizes the brand's identity—the Coke bottle, the blue Tiffany box, the gleaming Apple logo. Subscription brands can become iconic as well – and it all starts with choosing the right material (also known as "substrate") for your subscription box packaging.
You'll find several options on the market, and they each serve a different purpose. What you choose will depend on your brand, graphics, budget, and ultimately what you want your customer's experience to be.
Extending an Existing Brand
Many large brands are moving into the subscription space, including Allure, Target, and Sephora. For these companies, maintaining brand integrity in a new channel is job number one. The subscription box experience must complement the existing brand experience whether that's online, in print, or in-store.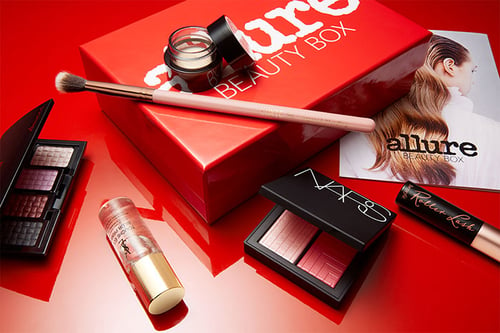 Take Allure, for example. This box is less about the individual products, although they are consistently high-end, than it is about Allure's reputation as a fashion imprint. Every decision about Allure's box is driven by the need to represent the existing brand as closely as possible. The resulting box is as polished as their magazine and digital presence.
Standalone Subscription Brands
Other brands, especially startups, need their box to do more. Startups rely on their subscription box to be a heavy hitter in establishing their new brand and bringing an idea to life (rather than build on an existing foundation). Standalone subscription boxes play a critical role in the customer's experience – there's no physical storefront or in-person shopping experience to share the responsibility. So, before you can choose a subscription box packaging material, you must define your individual brand. Understanding how your customers perceive you is the basis for choosing your substrate. As a starting point, try locating your brand within these ranges:
- Bargain to Premium in Value
- Understated to Bold in Presence
- Modest to Boastful of Environmental Profile
Depending on where your brand falls in each range, this forms a starting point for thinking about what material best represents your values.
Material Color and Finish
The appearance of your subscription box will be largely influenced by the look of the packaging material you choose. The most common subscription box packaging material is corrugated board (you may call it cardboard). Depending on the color and finish of the corrugated material you choose, your final box will have a different look and feel that influences the perception of your brand.
Kraft Corrugated
Brown kraft corrugated delivers bang-for-your-buck value (Dollar Shave Club got this right from the start). Although all 3 of our profiled corrugated materials are recyclable, kraft communicates environmental friendliness in an outspoken voice, and that's backed up by stats. Corrugated overall is the most recovered packaging material in use today, with 93% recycled into other paper products. Your graphics can seem softer on kraft, but for the right brand, it can create an edgy look with sophisticated design treatment. It's worth it to invest in a professional partner for graphic design and to see this material in action (you can order a Fantastapack Sample Kit here).
Uncoated White Corrugated
This is the standard available material and provides a nice middle ground between an economical and premium appearance when left unprinted. The outside liner is a soft, mottled white, and the inside liner may be the same or kraft depending on where you purchase your boxes (Fantastapack boxes are lined with white on both sides). If your graphics will cover the majority of your box with ink, uncoated white is the best choice for making a bold or elaborate design pop. And it's particularly effective for inside printing.
Coated White Corrugated
For premium products, coated white is the likely first choice. The bleached white liner is clay-coated and looks great all on its own with a bright white appearance and smooth touch. This material enhances ink color, and it's required if you want to achieve a gloss finish, but it really shows best with less graphics coverage. The white sets off higher-end products to great advantage, and this material provides a slightly higher level of durability in transit from scuffs and scrapes.
PurePrint Materials Collection
Fantastapack offers two exclusive premium materials, specifically engineered for digital print. PurePrint Premium™ and PurePrint Matte™ both combine offset-quality print with premium materials to deliver full-color impact and attention-grabbing results.
PurePrint Premium™ combines our brightest white material with our best print quality to deliver vivid, full-color impact and high-end results, using environmentally safe True Water-Based Inks. While PurePrint Matte™ is understated yet impactful, pairing a mottled white material with our best print quality to deliver a luxurious shine-free look, and also uses environmentally safe True Water-Based Inks.
You also have the option to choose PurePrint Premium™ with Kraft or PurePrint Matte™ with Kraft. Leverage the vivid, full-color impact of our PurePrint Materials Collection on the outside, and the natural appearance of Kraft on the inside of your box. Both material options use True Water-Based Inks that are safe for primary packaging.
A Note on Flute Size
Corrugated board comes in a variety of flute sizes. Flute is generally associated with the thickness of the material, although it technically refers to the wavy medium between the two paper liners of the boar
The most common flute sizes for subscription box packaging are E and B flute. Depending on the dimensions of your box, your packaging manufacturer should help you choose the flute size that is most appropriate. Smaller boxes will most likely use E flute (thinner) and larger boxes will use B flute (thicker).
At Fantastapack, we make things easy by automatically calculating which material flute is best for your specific box style and dimensions as you make your purchase, so you don't have to spend time trying to figure it out on your own.
Other Considerations
In addition to the appearance and finish of each material, other factors may impact what you ultimately move forward with. This list of considerations includes graphic design, budget, and print method. Don't make each decision about your subscription box packaging in a silo – educate yourself and determine the right combination of these elements that will represent your brand and deliver an excellent experience to your customers. A great product and presentation will satisfy your subscription base and help you win new business each month.
Further Reading
For more information on Fantastapack's subscription box material offerings, read our article: Choosing the Right Material Can Enhance Your Design. To see examples of materials with print in action, order a Sample Kit now: